ASBALON - Ultra Strong Poly Carbonate Roofing Sheet
Asbalon Polycarbonate roofing sheets are manufactured from 100% virgin quality polycarbonate raw materials a transparent thermoplastic - and has 50 micron UV co-extrusion. They provide great insulation, ensuring warmth during winter. Because of its reflective property, a Polycarbonate roof keeps you cool in summer. Even as its lets the sunlight through, it keeps out harmful ultraviolet rays. The roof is stable and very durable and can resist high and low temperatures. It is non-toxic, stain resistant and has an excellent impact resistance and fire rating. Polycarbonate sheets are light weight and so very easy to install. Once installed, very little maintenance is needed. Also, Polycarbonate sheets are less expensive.

Superlative quality

The polycarbonate sheet is based on engineering plastics - polycarbonate as raw materials. The sheets are high-tech, high performance, energy saving and environmental protection-type chemical building material products, with a high degree of transparency, lightweight, impact resistance, heat insulation, flame retardance, durability and so on.
A variety of applications
These roofing sheets are designed for commercial and domestic uses. Widely used in the construction of halls, shopping malls, stadiums, eco-hotels, entertainment centers and stations, parking lots, pavilions, corridors and other communal facilities in proof lighting. The sheets are also used for expressway noise insulation in modern agricultural green house and aquaculture industry, advertising, architectural decoration and other fields.
Different profiles of Polycarbonate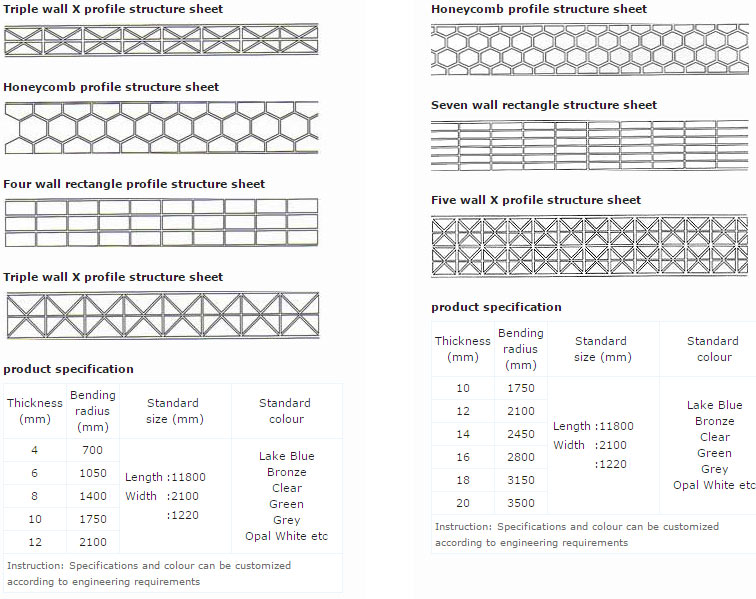 Form 1 - Technical Specifications
Light transmission: Depend on different colours, light transmission rate reach 12-82%
Anti-UV and ageing resistance: Since the surface of the sheet is coated with an anti-UV Co-extrusion layer having good weather resistance, it can maintain its optical properties and mechanical performance for a long time.
Impact resistance: Because of good toughness, it is not easily damaged during transportation and installation. The strength of impact resistance is 10-27 times that of organic glass.
Thermal insulation: The special hollow structure can effectively reduce the energy cost for the building.
Sound insulation: The hollow structure and the excellent performance of polycarbonate sound insulation, can effectively reduce the noise.
Fire proof: Reaches the B-s1, d0, t0 level of StateGB8624-2006 Standard.
Easy installation: Easy to install and can be cold bended.
Form 2 - Technical Specifications
Standard strength: 11800mm
Temperature for using long time: 2400Mpa (1mm/rain.ISO 527).
Tensile yield stress: 63Mpa (at yield 50mm/min. ISO 527)
Tensile yield strain: 6% (at yield 50mm/min. ISO 527)
Nominal tensile fracture strain: >50% (at break 50mm/min, ISO 527)
Impact strength 230C of simply supported: Beam methods : NB (ISO 179/leU)
Impact strength 300C of simply supported: Beam methods : NB (ISO 179/leU)
Fire proof properties: GB8624-2006 B-s1, d0, t0
Cantilever beam: Impact strength (Gap) 230C, 230C 80kj/m2 (ISO 180/4A)