Table of safe spans Values guaranteed with external face in steel,0.5mm thick,and internal face in feel,0.4mm thick or with both faces in aluminium 0.6 thick external face in aluminium,0.6mm thick,and internal face in steel,0.5mm thick.The spans l (m) as a function of a uniformly distributed overload p (kgf/m2), have been obtained from load tests carried out in Metecno laboratories, and provide a deflection f = l /200 with a safety co efficient that complies with the UEAtc standards for insulated panels,which have been established and are implemented by primary European Certifying Orgnizations.

Witht external and/or internal steel thickness interior to the above mentioned ones,the guarantee on the admissible loads for the spans indicated in the table is maintained on the deflection limit and the safely coefficient.

K value is thermal Transmittance Co-efficient expressed in Watt/m20C and Kcal/m2h0C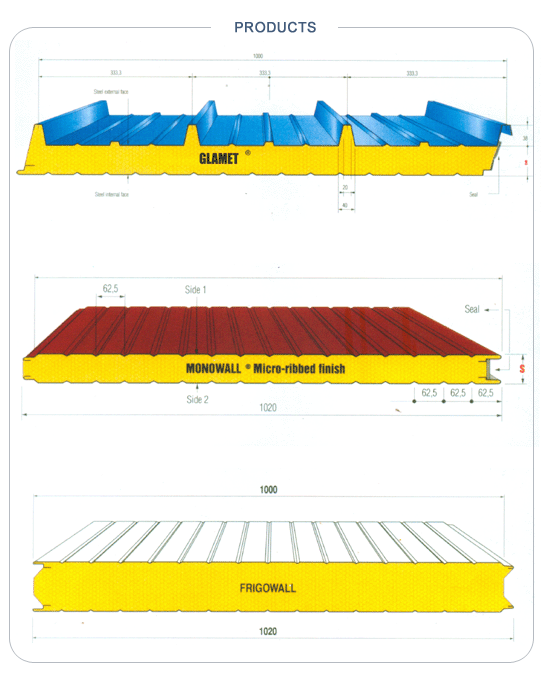 Features
High load bearing capacity at low weight.
Excellent and durable thermal insulation
Absolute water and vapour barier
Excellent air tightness and free of thermal bridges which results in considerables energy savings
Surface finished facings providing resistance to weather and aggressive environments
Capacity for rapid erection without lifting equipments;easier installation in hostile weather conditions
Easy repair and replacement in case of damage
Long life and very low maintenance cost
Good sound insulation
Reasonable fire reaction and resistance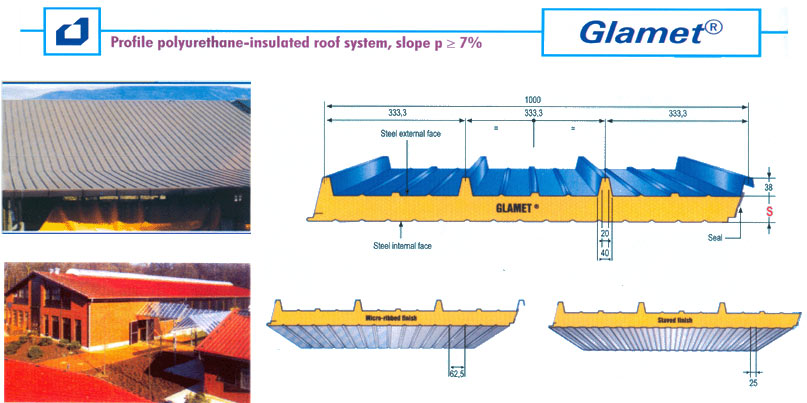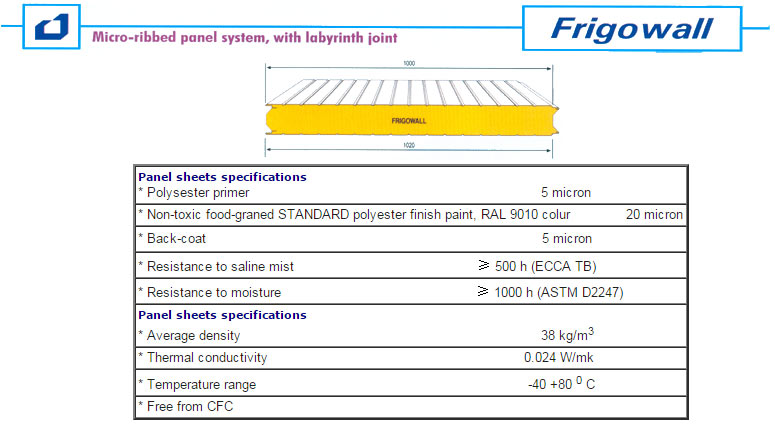 Low temperature - micro-ribbed
FRIGOWALL is a range of self-supporting metal panels with state-of-the-art polyurethane with a labyrinith joint for the construction of positive temterature cold storage warehouses and rooms.

The FRIGOWALL range has been designed to provide a complete solution to the requirements of the cold storage industry, providing the following benefits : HIGH THERMAL RESISTANCE,MECHANICAL RESISTANCE,DIMENSIONAL TABILITY,NON-WATER ABSORBENT, LIGHT WEIGHT,STHETICALLY PLEASING APPEARANCE,DURABILITY,EASE AND SPEED OF INSTALLATION.

The panels of the FRIGOWALL range are available with self expanding seal joints,cover width 1000mm,in 80 - 100 - 120 - 150mm thicknesses.