Cool Board - Extruded Polystyrene Rigid Foam Insulation Panels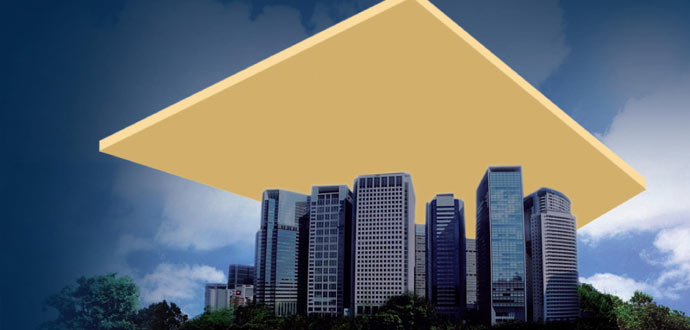 Cool BoardTM is an Energy-Saving, Moisture-Resistant XPS Insulation is an efficient tool for insulating external walls, floors, roofs and ceilings. This insulation system is perfectly suitable for varying Indian climatic conditions.

Heating, cooling and protecting buildings to maintain a comfortable temperature in the interior expends a considerable amount of global energy and monetary resources. Insulating buildings makes interiors comfortable in case of unconditioned space and energy efficient in case of conditioned space. Cool BoardTM guarantees 90 percent of its insulating value for 20 years. When the external walls are insulated from heat/moisture ingress, it ensures an even temperature across the interiors.ls, floors, roofs and ceilings. This insulation system is perfectly suitable for varying Indian climatic conditions.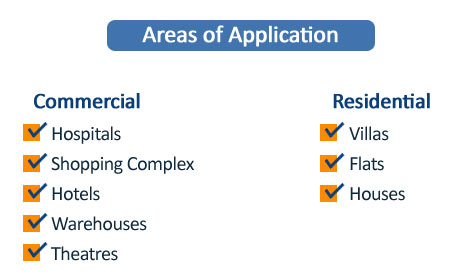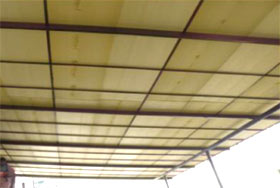 Under Metal Roofing
Underdeck insulation of metal roofing offers several benefits:
Minimises heat and maximises thermal comfort within the building
Enhances acoustic benefits by reducing noise produced by rains or other factors
Controls cost and energy spent on air-conditioning
Prevents moisture condensation and so cuts corrosion
Improves aesthetics from interior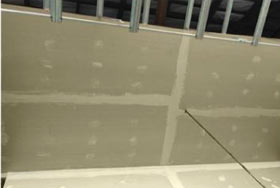 False Ceiling
Flame retardant and water resistant; XPS Roof Insulation Foam Boards are ideal for the construction of false ceilings.
Excellent heat insulation
Light and easy to handle, helping fast installation
Low water permeability
High load capacity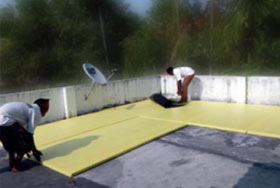 Overdeck Insulation
The high thermal conductivity of RCC and resultant heat reflectivity to the interiors of the building can be effectively tackled by XPS Overdeck Insulation in hot and dry climates.
Helps non-air conditioned buildings maintain comfortable temperatures inside
Reduced spending on weather control mechanisms
Enhances life of the building by minimizing occurrence of cracking, thermal stress and leakage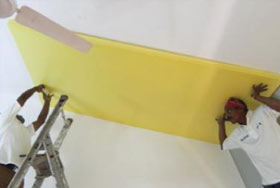 Under Deck Insulation
Insulating RCC roofs (Concrete Roof) on their underside helps them:
Insulate against moisture seepage and dampness enhancing the life of the building
Cuts down heat reflectivity thereby providing more comfort within its interiors
Enhances life of the building by minimizing occurrence of cracking, thermal stress and leakage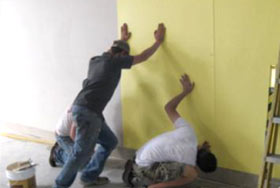 Wall Insulation
Cool BoardTM is an efficient external wall insulation system offering weather and climate control and protection.
Longest lasting thermal insulation system
Maintains uniform temperature across the building
Saves space as the system is installed on the exterior
Can be customised to suit specific insulation requirements
Flexible for incorporating preferred finish and textures for aesthetic appeal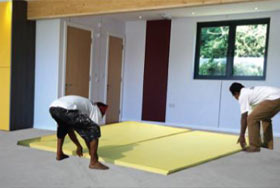 Floor Insulation
Floors and foundations that must maintain a prescribed surface temperature for technical reasons find XPS insulation highly effective.
Apt for server rooms
Maintains ceiling surface of the floor above dew point
Prevents condensation of bottom slab surface
Why Cool Board?
The advantage of using Cool BoardTM is it offers a good thermal insulation for a long period of time. ie., it maintains a low thermal conductivity
Cool BoardTM being light weight makes it a versatile product in application
Water absorption is less than 1% which helps it to maintain its long term performance
Cool BoardTM maintains its original form thus giving excellent longevity
It is perfectly suitable for varying Indian climatic conditions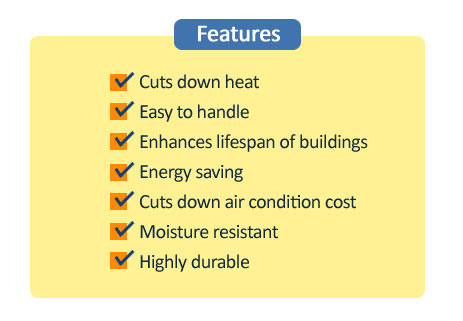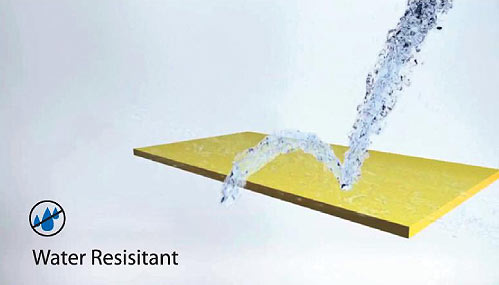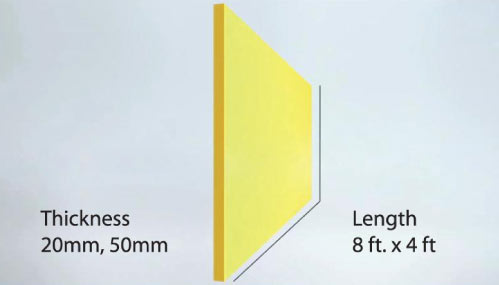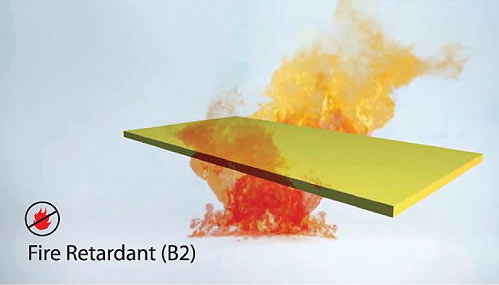 Then why choose Gypsum board for false ceiling?
Cool BoardTM maintains its low thermal conductivity over a longer period of time compared to other insulation products. That is other insulation products tend to absorb moisture from atmospheric air thus losing its thermal insulation performance since water is a good conductor of heat. Cool BoardTM is light weight thus making applications versatile.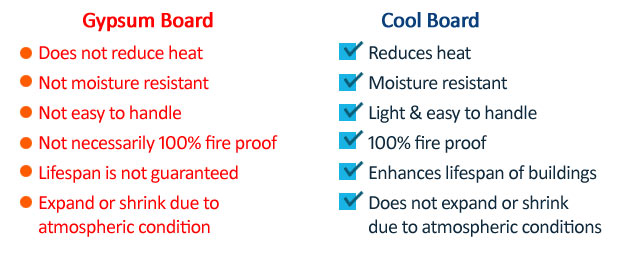 How it works?
There are many advantages in replacing Gypsum Board with Cool BoardTM. It insulates the interior from the heat from outside. The usage of air conditioner, ceiling fan and exhaust fan can be minimised. Thus the usage of Cool BoardTM will lead to energy saving too. As Cool BoardTM has many advantages, its beeing the No:1 choice for architects, engineers, consultants & contractors for insulations.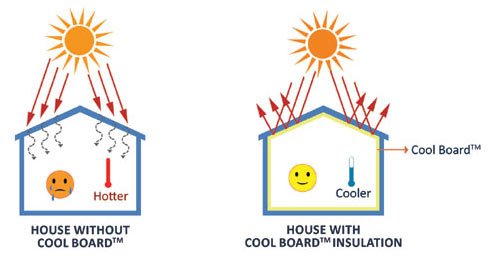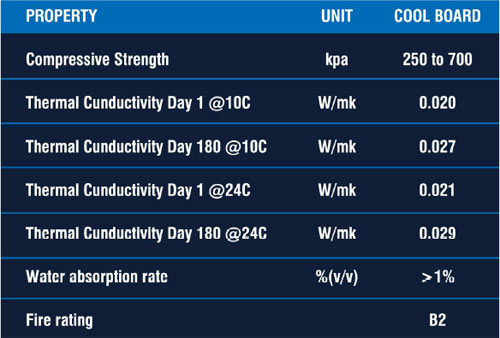 Comprehensive Insulation for Complete Comfort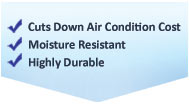 Cool BoardTM Energy-Saving, Moisture-Resistant XPS Insulation has been especially designed to adapt to the climatic conditions that it is installed in. Cool BoardTM has the innovated technology that ensures the finest finish with a complete set of fixtures accompanying the insulation system.

Cool Board Insulation Edge
Is moisture resistant and therefore helps maintain the building's R- value better
Light and easy to handle as well as transport
Ensured thermal insulation for the longest duration
Maintains uniform temperature across the building
Ensures high compressive strength (minimum 25 tonnes/m2)
Material used for insulation can be recycled
Is beneficial for multiple applications
Enhances lifespan of buildings
Saves space as the system is installed on the exterior
Can be customised to suit specific insulation requirements
An important qualifier for green buildings
Professionally trained applicators available for installation
Flexible for incorporating preferred finish and textures for aesthetic appeal

Click here to Download E-Brochure