ROOFAB, one of the leading and most sought-after roofing sheets in South India, is delighted to introduce the latest and revolutionary PMMA Coated UPVC Roofing Sheets. UPVC roofing sheets are thermally insulated roofing sheets excellent for use as a high-grade roofing material for high-grade purposes. It regulates heat, is resistant against weather corrosion and chemical corrosion, with high tensile strength and superb sound insulation. The special PMMA coating is a highly anti-weathering engineered resin material that guarantees colour protection for 10 years, with first-time colour quality.

Benefits
Eco-friendly & Energy Efficient : It is 100% environment friendly, helping conserve energy and is easily recyclable.

Enduring colour : Even when exposed to harsh UV rays, moisture, high and low temperatures all year-round, it can maintain the stability of the colour.

Lasting Strength : It has got excellent load bearing performance. Can withstand even 150kg load without any damage.

Heat & Sound Insulation : The coefficient of heat conductivity is 0.325w/m.k. It can also absorb the noise caused by storm, hail, windstorm, etc.

Stable Volume : The expansion coefficient is 4.93 x 10 -5(1/0C). Even when temperature varies, the root does not expand and remains in its stable geometric dimension.

Corrosion Resistant : It is highly resistant against chemical corrosion of acid, alkali, salt, etc. for a long time. Hence, it is best suited for tropical climate areas.

Good Water Resistance : It does not absorb water at all. Each sheet is big enough so as to reduce joints and all the connecting points are tightly connected so that water leakage will not occur.

Impact Resistance & Low Temperature Resistance : Even when a 1kg steel ball is dropped from 2 metres, it will not crack. It will not blow, bubble, strip or crack even after 10 freezing and melting cycles.

Light Weight : It weighs only 6kg per square metre. It is also easy to handle and lift, helping to reduce the construction cost.

Fire Resistant: : The polyvinyl chloride resin in it, and the chemical performance determines that it is difficult to be burned.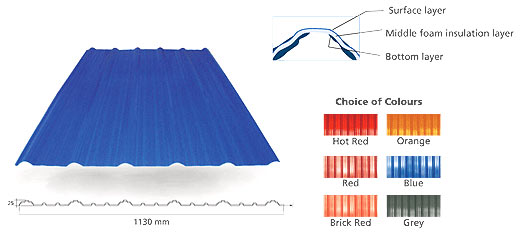 ROOFAB - Classic Tile Roofs

Colourfast
Excellent Heat Insulation
Brilliant Anti-corrosion capacity
High anti-fire capacity
Strong mechanical capacity
Ultra durable - anti-aging, long-wearing
Good sound insulation performance
High utility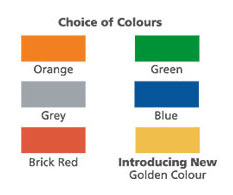 ROOFAB - Accessories